| | | |
| --- | --- | --- |
| About Us | Our Members | Area Events |
| | | |
| The Moorcroft Chamber of Commerce strives to support the development and continued growth of our local Business Members, while providing fun, community-based activities and events for our local residents! | The valued local Business Members of the Moorcroft Chamber of Commerce are a group of dedicated business owners and community leaders who are commited to making our little town that much bigger...and that much better! | Throughout the year, the Moorcroft Chamber of Commerce, in conjunction with our local Business Members and friends around the area, holds fun, family-oriented events designed to bring the community closer together! |
| Learn More > | Our Current Members > | View Upcoming Events > |
The goal of the Chamber is to be: "An organization for the purpose of advancing commercial, industrial, and civic interest within the City of Moorcroft, Wyoming, and the surrounding trade area."
Here's What's Happening Around Moorcroft...
Dick Claire, Bev Rexford & Blakeman Propane
Congratulations to Vicki Paddock, the winner of the 2017 Polaris RZR. The Moorcroft Area Chamber of Commerce would like to thank everyone you bought and sold raffle tickets to help us raise money for the many community events we organize throughout the year!
Congratulations to the 2017 Moorcroft Area Chamber of Commerce Scholarship Recipients… Brittany Delfino & Sarina Jones
The Moorcroft Area Chamber of Commerce has its meetings at noon on the second Wednesday of each month. See below for the 2017 schedule with meeting dates and locations.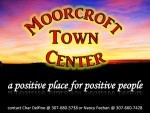 The Moorcroft Recreation Department has been working hard to transform the old elementary school building in to the new Moorcroft Town Center.
Important community phone numbers:
The top 10 reasons to be a MACC member are: 1. Increase your visibility in the community – As a new member you will be featured in the "MACC Memo" email newsletter, on the Chamber's Facebook page and highlighted on the Chamber's website. 2. Networking Opportunities – The Chamber offers its members many advertising and…