| | | |
| --- | --- | --- |
| About Us | Our Members | Area Events |
| | | |
| The Moorcroft Chamber of Commerce strives to support the development and continued growth of our local Business Members, while providing fun, community-based activities and events for our local residents! | The valued local Business Members of the Moorcroft Chamber of Commerce are a group of dedicated business owners and community leaders who are commited to making our little town that much bigger...and that much better! | Throughout the year, the Moorcroft Chamber of Commerce, in conjunction with our local Business Members and friends around the area, holds fun, family-oriented events designed to bring the community closer together! |
| Learn More > | Our Current Members > | View Upcoming Events > |
The goal of the Chamber is to be: "An organization for the purpose of advancing commercial, industrial, and civic interest within the City of Moorcroft, Wyoming, and the surrounding trade area."
Here's What's Happening Around Moorcroft...
Cast your vote for the 2015 Citizen and Business of the year and get your tickets for the banquet today!
Don't miss your chance for all you can eat homemade soup and bread on November 14th from 3-8 pm at the new Fire Hall. All proceeds go to the Chamber's annual Christmas Basket Project. Some of the planned events for this year include all you can eat soups, bake sale, various local vendors, a cheesecake…
The Moorcroft Area Chamber of Commerce has it's meetings at noon on the second Wednesday of each month. Click here for the 2015 schedule with meeting dates and locations.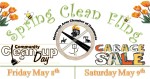 The 2015 Clean up sponsored by the Moorcroft Area Chamber of Commerce has to be considered a rousing success. On May 8th the students from Moorcroft Jr/Sr along with volunteers with pickups and trailers came together to rid the town of 38 loads of debris. The town was divided in 7 sections and each group…
Congratulations to the 2015 MACC Scholarship Recipients – Ashley Sams and Kendra Kanode!
The Moorcroft Area Chamber of Commerce had an outstanding year in 2014! This success would not have been possible without our faithful members, our generous sponsors and our tireless volunteers! Please take a moment to read the 2014 MACC Highlights, then take a stroll down memory lane by viewing our 2014 Chamber Presentation. Thanks to…
Congratulations to Dorothy Baron, the Chamber's 2014 Citizen of the Year, and Coffee Cup Fuel Stop, the Chamber's 2014 Business of the Year! The Chamber would also like to thank everyone who made our 7th annual Banquet such a huge success!!
As part of our commitment to the Community and our Members, the MACC will be offering an Employment Section on our web site where MACC Business Members can post their open positions to local area residents for free! We want to make sure all of our area residents are up-to-date on any opportunities that may…