With eight locations in the Northeast Wyoming area ready to serve you, Blakeman Propane is dedicated to creating and keeping loyal customers through continuous improvement of all products, services, and processes. They are committed to their customers and their team of Propane Specialists and emphasize ethics and efficiency in all aspects of their business.
They deliver propane and propane accessories to many suburban and rural parts of Wyoming, and provide the following services to meet all of your propane needs: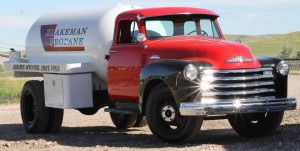 Residential delivery
Commercial and government locations
Construction applications and temporary job-site heating
Farm and ranch
Fracking (24/7)
Oil field: treaters, valve actuators, etc.
Methane sites
Hot mix
Highways
Remote power generation sites
Serving Moorcroft, Rozet, Upton, Pine Haven, Oshoto, and all areas in between!
Office Hours: 8:00am – 5:00pm, M-F
Plant Manager: Steve Blakeman
Located at:
802 W Converse
Moorcroft, WY 82721
Mailing address:
P.O. Box 45
Moorcroft, WY 82721
Phone:
(307) 756-3302