First established in 1958, Devils Tower Natural History Association (DTNHA) is a not-for-profit corporation incorporated under the laws of the State of Wyoming. DTNHA's mission is to promote understanding and conservation of the natural, cultural, and historical resources of the monument through education, public information, and service.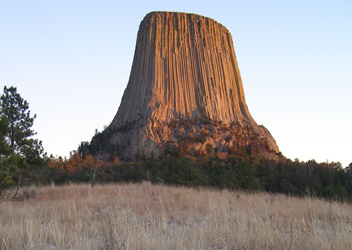 Devils Tower is America's first national monument, created by President Theodore Roosevelt under the Antiquities Act in 1906.
The dramatic and alluring character of the Tower evokes a powerful sense of wonder, attracting people for centuries. From the earliest native peoples to local ranchers, the Tower has always been a gathering place, a place of community, a place of refuge. Many share their stories about the Tower from generation to generation.
Over 20 tribes have a cultural affiliation with Devils Tower. Many tribes have stories about how the Tower was created. Most of the stories talk about a bear using its claws to score the Tower's sides.
Devils Tower National Monument is open 24 hours a day, 7 days a week.
The visitor center, where the Devils Tower Natural History Association (DTNHA) bookstore is located, is also open year round.
DTNHA Bookstore Visitor Center hours of operation:
October thru April – 9:00am to 4:00pm, 7 days a week
Early May until Memorial Day weekend – 9:00 a.m. to 5:00 p.m, 7 days a week
Memorial Day weekend thru Labor Day – 8:00 a.m. to 7:00 p.m, 7 days a week
After Labor Day thru September – 9:00am to 5:00pm, 7 days a week
Please feel free to contact Chris Campbell, Executive Director, at 307-467-5283 Ext. 631 or at chris_campbell@partner.nps.gov any time of the year.
Located at:
15 Prairie Dog Lane
P.O. Box #37
Devils Tower, WY 82714
Phone:
(307) 467-5283 Ext. 631
Email:
DTNHA@yahoo.com
sandra_mooney@partner.nps.gov
Visit the Devil's Tower Natural History Association online here