HOPPER'S BAR & LIQUOR ~ Where Old Friends Meet since 1935
Offering a clean, friendly, smoke free environment to enjoy your favorite cocktail and time spent with friends. Stop in and check out the package liquor selectionor take advantage of the wide, trailer friendly drive-thru window for your to-go liquor and beer. Always the coldest beer in town and free ice wtih purchase. Special orders are welcome. If we don't stock what you're looking for, we'll do our best to order it in for you. Come enjoy the outdoor covered beer garden, pool table and darts.
Voy "Hopper" Cox started Hopper's after prohibition was repealed in Wyoming in 1935 and it has been a favorite gathering spot for locals and travelers ever since. Ron and Linda Caylor are proud to continue the traditions of this truly unique and historic landmark. "Boy, if these walls could talk."
Bikers, Boaters, Hunters, Cowboys, Travelers and Locals; no one is a stranger when you're at Hopper's Bar.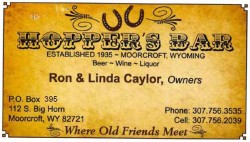 Located at:
112 S. Big Horn Ave
Moorcroft, WY 82721
Phone:
(307) 756-3535
(307) 756-2039