At In 2 U Flowers and Gifts, your special occasions are as important to us as they are to you. Wendy can help you create beautiful and lasting memories of all of your special occasions whether the occasion is a joyful wedding or perhaps a more solemn ritual of remembrance and celebration of life after the loss of a loved one, we are committed to giving our clients the very best! That commitment includes delivery to the funeral homes in Sundance and Gillette at no extra cost.
Wendy Kissack recently returned from the 2016 American Institute of Floral Design Symposium held in Anaheim, CA where she passed the exam to become a Nationally Certified Floral Designer. This is a very prestigious certification and Wendy's beautiful creations definitely meet the high standards set by the American Institute of Floral Design.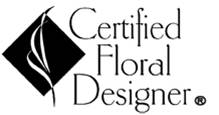 Call us at (307) 756-3335 or stop by the shop at 113 N. Bighorn Ave. in downtown Moorcroft Wyoming.