Strata Energy is the US subsidiary of Australian-based Peninsula Energy Limited. Listed on the Australian Securities Exchange under the symbol PEN, Peninsula is an emerging uranium producer with projects located in the United States and South Africa. Strata Energy is an enterprising company focused on developing Peninsula's Wyoming-based in-situ recovery (ISR) Lance Projects, utilizing local resources and actively engaging with nearby communities.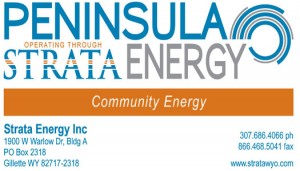 Strata is led by a management team with specialized expertise in ISR mining operations, supported by a project team with extensive industry experience in the design, permitting and public outreach of ISR mines in Wyoming.
Strata takes an active role in positive involvement with neighboring communities, cultivating honest, two-way communication with community members. To facilitate this communication, Strata hosts quarterly stakeholder meetings with landowners in the project area, and provides regular updates to city councils and other community groups regarding project progress. These meetings are typically open to all members of the public, and we welcome the opportunity to foster open communication with residents.
We also offer sponsorship opportunities on an ongoing basis to support and invest in our local communities, host local events, and more!
Located at:
Gillette Administrative Office
1900 W. Warlow Dr., Bldg. A
P.O. Box #2318
Gillette, WY 82717
Phone:
(307) 686-4066