Sundance State Bank has been proudly serving the Northeastern Wyoming areas since 1895 when John W. Rogers opened a bank in the area. Sometime between 1895 and 1905 J.G. Bush became associated with John Rogers and the bank became known as Rogers and Bush Bankers. Just a short time later, Rogers and Bush Bankers became the Sundance State Bank after it received a Corporate Charter on October 25, 1905. The first directors of Sundance State Bank were J.W. Rogers, J.G. Bush, A.L. Ripley, C.H. Sackett and J.L. Propst.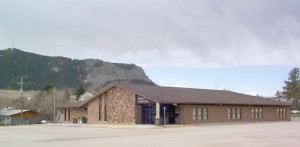 Today, Sundance State Bank remains a locally owned bank dedicated to serving the financial needs of Northeastern Wyoming. Sundance State Bank offers investment products paying competitive rates such as: Savings accounts, Certificates of Deposit, IRAs, and more.
Our Loan Products include: Consumer loans, Commercial loans, Agriculture, and Real Estate loans. They also offer safe, secure online banking, Safe Deposit Boxes, Night Depository and other services & features designed for the convenience and safety of our customers.
Located at:
123 North Second St.
P.O. Box #950
Sundance, WY 82729
Phone:
(307) 283-1074